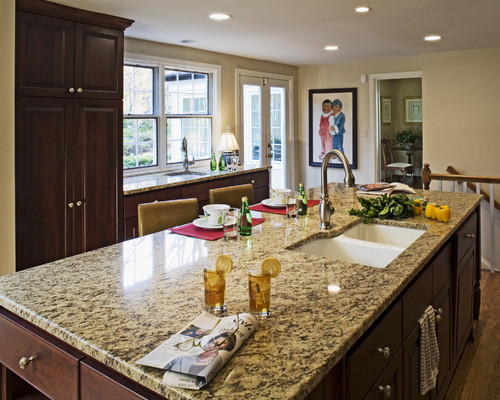 As the housing market continues to improve, homeowners across the country are investing their money in kitchen improvements. Of course, the two most important choices you will make in any kitchen upgrade are the countertops and the cabinets. They are going to be the focal point of the whole room; they are the most visible features and the ones that will be used the hardest. It can be frustrating to select the right combination for your home, but don't worry! That's why we have put together this guide to help you make the right choice for your individual space and taste.
Complement or Contrast
First, let's break the choice down into two simple options: complementary or contrasting. A complementary kitchen has countertops and cabinetry that are similar in shade and complement each other. Of course, this option can range from all white to all black, but there are also some beautiful complementary cabinet and granite combinations in between that you may not have considered.
For example:
• New Venetian Gold Granite and a light maple cabinet
• Crema Bordeaux Granite paired with a cherry cabinet.
In the first example, the oak cabinets would highlight the many subtle wood colors in the New Venetian Gold Granite (take a closer look next time you see this stone- it has a lot of colors you may not have noticed at first glance). In the second example, the dark Bordeaux color (that's a dark wine color similar to burgundy) in the Crema Bordeaux Granite will tie the dark red cherry wood in with the granite. Both the elements are a medium color, but they still stand out individually. Complementary kitchens can be very soothing. Each element interacts with the other to create harmony.
Of course, the most recognizable contrasting granite and cabinet combinations are the timeless black and white looks. Contrast adds energy and a bit of fun to the whole room.
For example:
• Distressed black painted cabinets with solid white quartz counters
• Magma Gold Granite on natural oak cabinets.
As you can see from these two examples, the contrast can rely on the simplicity of the two elements or it can serve to highlight the bold pattern of an exotic granite like Magma Gold.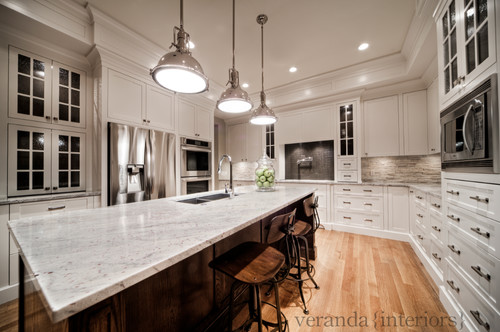 Playing Up the Individual Colors in Your Stone
Another way to approach matching your cabinets and granite countertops is to look for cabinets that will highlight a certain color (mineral) in your stone. We touched on this technique earlier when discussing the example of New Venetian Gold Granite and a light maple cabinet. Since granite is a natural material, it has literally thousands of different minerals (and therefore colors). Of course, you can't see all these colors, but by holding different wood samples up to the granite color you have chosen, you can see which cabinet options will make the colors in the granite- be they prominent or hidden- stand out.
Let's demonstrate this with a Giallo Napoli Granite. First, you could play up the creamy background of the granite with a cream cabinet. Take it one step further with coffee glazing on the cabinets, and you have a cabinet that will accent the most significant colors of the stone while still maintaining a subtle complimentary look in the kitchen. With that same Giallo Napoli Granite, you could choose any wood with a medium brown finish to play up the darker elements of the stone.
Some Practical Tips for Matching Your Countertop and Cabinet
Lastly, if you still are unsure of the best combination for your kitchen, here are some practical tips for matching your granite, marble, or quartz to your cabinets.
• If you choosing a granite for pre-existing cabinets, grab a top drawer from your cabinets, and take it along to your local stone fabricator. This will help you get a feel for how well the cabinet agrees with different slabs of granite or quartz.
• If you've already picked out your granite slab, but still need to find the right cabinet, don't be afraid to order lots of samples from the cabinet company. The fees are worth it. Then set up a time when you can visit your fabricator and place all the cabinet samples with your stone color to see which works best.
• Ask your fabricator to help you…after all these years working with stones, we have gotten pretty good at finding the perfect match.
• And at the end of the day, trust your own instinct. If it looks beautiful to you, go for it. Most of our clients have excellent taste, so trust yourself!